Wondering how to use Instagram stories to nurture warm leads?
In this article, you'll learn how to use Instagram stories to engage and guide people through your sales funnel.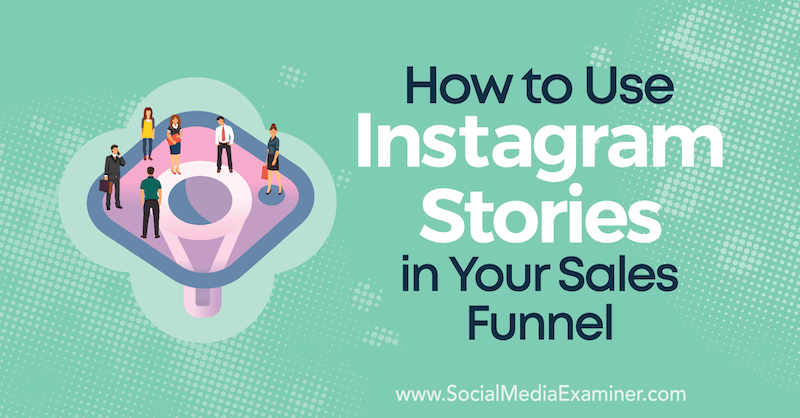 #1: Nurture Warm Instagram Leads in the Middle of the Funnel
Instagram stories are best used to target followers who are in the middle of your sales funnel, rather than new users who are unfamiliar with your brand. Stories invite users who already follow you to view and engage with your content more consistently. Those who are already interested in your brand can be carried from the middle all the way to the bottom of your funnel through consistent and compelling story content.
You can post new stories daily or even multiple times per day. Because they disappear in 24 hours, stories don't gum up your followers' feeds the way that multiple standard social media posts shared in the same day would. It's generally an acceptable marketing strategy for brands to post consistent and frequent stories for their followers to see throughout the day, increasing their exposure to your brand and encouraging interested prospects to swipe up and learn more.
When creating your social media stories, your content needs to be compelling enough that followers will watch to the end. Your audience will remember stories that evoke emotion or share important, easily digestible information.
You should also consider tactics that will make brief story segments valuable and memorable for your followers. Here are a few concrete ways to accomplish this.
Tips and Tricks Stories
Quick, easy-to-follow tips and tricks make great Instagram story content because they provide value to your followers. They're also a seamless, natural opportunity for product placement, and they appeal to followers who are between the middle and bottom of your sales funnel. Customers can discover new ways to use your products or services, while prospects are presented with additional or more specific reasons to take the next step or make the purchase.
These types of stories are most effective when you use clear, simple messages and examples. Your followers are more likely to stay for quick and easy-to-digest information as opposed to text-heavy or overly detailed story content. Understanding the concepts shared in the story shouldn't require followers to take notes or bring in a lot of outside knowledge.
Lowe's Home Improvement offers handy tips for their Instagram followers on many home and gardening topics. The story below introduces a new tool that people can use to help avoid under- or overwatering houseplants. Rather than focus too heavily on technical information, the story keys in on the visuals and keeps the message short and sweet. It's not about explaining everything at this point, but rather just giving users a taste of information, letting them ultimately decide if they want to learn more.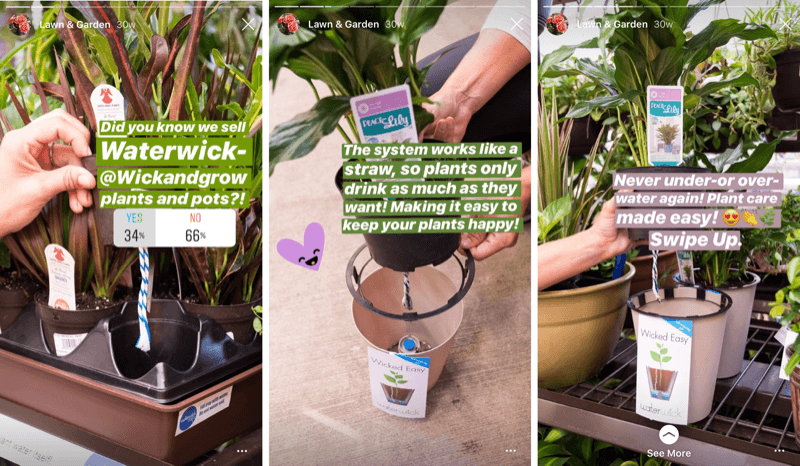 Stories like this offer an opportunity to nurture a relationship and build trust with your followers because when executed correctly, they come across as honest and helpful.
Educational Stories
Sharing educational Instagram stories allows you to keep rewarding consumers with great content, while also providing an opportunity to keep them moving down the funnel.
With an educational story, you can teach something basic and broad about your industry or one that your clients or customers work in. To illustrate, you might create a 15-second story that shows people new industry-specific software that can make their job or an everyday task easier. An educational story can also offer a surprising statistic about your industry, followed by a brief explanation or call to action.
Educational stories also give you space to share how-to's that feature your products or demonstrate your brand's knowledge or mastery of your industry. Introducing a new concept or discussing a new trend in the industry can educate followers and bolster your credibility.
As with stories that share tips and tricks, educational story content should be quick, clear, and helpful. Remember, people don't want to sit through a lecture! Keep your educational content interesting, applicable, and on-brand, as Drybar does in this story about styling holiday hair.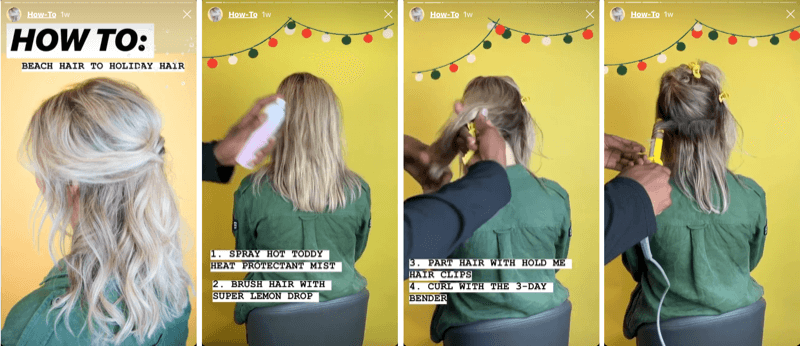 Pet food company Royal Canin took advantage of National Take Your Dog to Work Day to provide educational and fun content about dogs in the workplace.
In the story below, they don't shove their product in people's faces, but rather talk about related content that's of interest to their target audience.
Royal Canin's marketing is typically fine-tuned with a whited-out background and use of bold red. However, in this story, they offer a much more authentic experience with their brand (though they do use red and white throughout).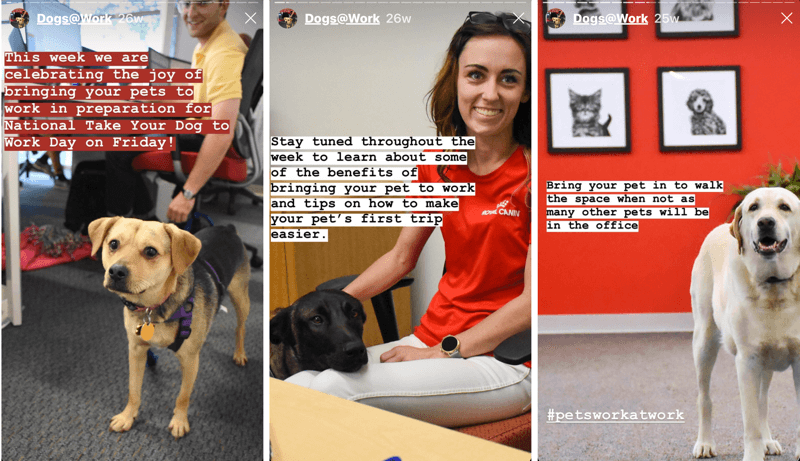 Lifestyle or Brand Stories
Instagram stories are also a great place to share more general lifestyle and brand content for your followers. You could post stories that show behind-the-scenes footage from your business or photo shoots, or content that features lifestyle models or influencers using your products in their daily lives.
The key to effective lifestyle or branded story content is entertaining viewers. While tips and tricks and educational videos offer valuable information, lifestyle content can offer entertainment value. You don't always have to feel compelled to teach. Lifestyle content provides this alternative.
Consider using techniques like humor, aspirational appeal, fictional characters, or personal stories. You can surprise your followers with relevant memes or jokes that they'll want to tell their friends about. Give viewers a sneak peek at what your team is doing to prepare for an upcoming holiday season, sale, or launch. Depending on your brand's journey, your followers may even like to see a story about your founder or the company's growth and development.
Creating lifestyle stories that make your followers laugh, feel nostalgic, or connect with your brand and its values will help guide them to the bottom of your sales funnel.
Footwear company Allbirds has always maintained a strong brand image. They share stories content that simply reinforces the look, feel, and connection of the brand with their consumers.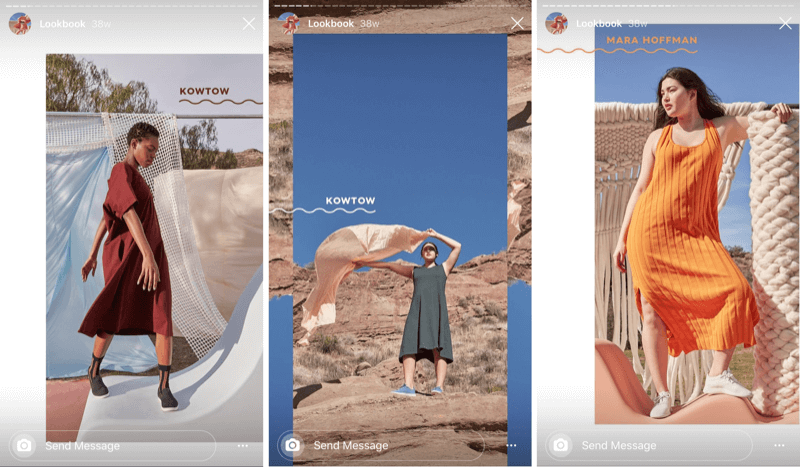 Specs and Dimensions for Instagram Stories
Instagram allows you to post stories content in 15-second chunks that disappear after 24 hours. Users tap through the queue of stories from accounts they follow rather than scrolling through typical analog-style posts. This difference in format is often advantageous to brands because users will see a series of only your stories as opposed to a singular post as they quickly scroll through their timeline.
The dimensions of Instagram stories are different from traditional posts or ads. Instead of the classic Instagram square, stories usually take up the entire smartphone screen. This means your stories content should be 1080 pixels wide by 1920 pixels high, an aspect ratio of 9:16. Keep these dimensions in mind when creating your content so your stories blend seamlessly into your audience's story feed.
Stories serve a different purpose than traditional Instagram posts do, so you can't simply recycle your standard Instagram posts as stories. Because of the temporary, casual nature of stories, followers generally expect to see story content that feels unedited, spontaneous, or intimate. When producing your stories, focus on capturing videos with a more natural aesthetic, as opposed to videos that appear heavily edited and highly styled. Save that content for your posts!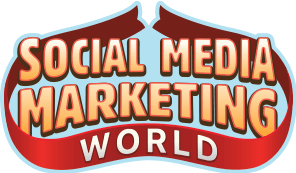 Get Expert Social Media Marketing Training!
Want to keep ahead of your competitors? Need to master a social platform? Discover how to improve your social media marketing at Social Media Marketing World 2020, brought to you by your friends at Social Media Examiner. You'll rub shoulders with the biggest names and brands in social media, soak up countless tips and new strategies, and enjoy extensive networking opportunities . Don't miss the industry's largest conference. Get in early for big discounts.
Sale ends Tuesday, December 31st, 2019.
0
3
Days
0
7
Hours
0
6
Minutes
1
4
Seconds
This example from natural home goods company Buffy isn't overly edited or produced. It's just a fun, off-the-cuff story that viewers might receive from one of their friends.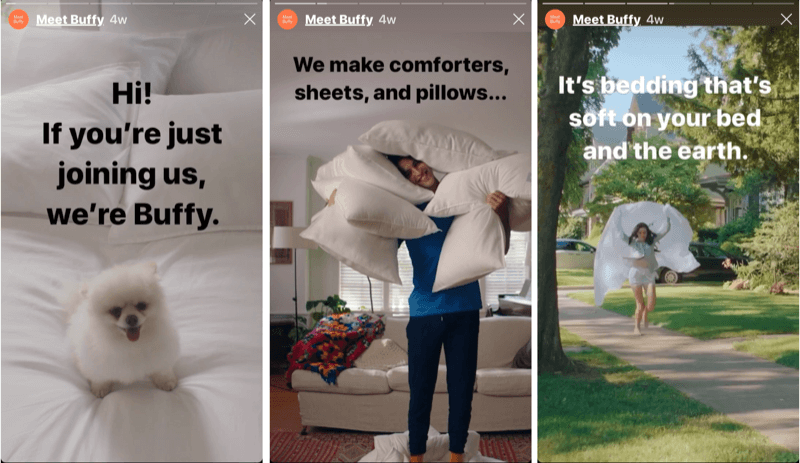 #2: Convert Your Hot Instagram Leads via Stories
While you're creating your awesome stories and tracking your followers' engagement with your content, keep the big picture in mind. Every so often, check to make sure you're driving those who watch your stories down the sales funnel. There are a few ways to accomplish this.
If you have the means, consider hosting a live webinar to kick off the launch of a new product or service. Advertise this webinar in your stories, and track how many followers and viewers take the extra step and attend the webinar.
You can also create a designated landing page or video that your followers are taken to if they swipe up on your stories to learn more. You can design this web content with that audience in mind, using language and features that have been proven to appeal to viewers.
Going back to the Royal Canin example, if you were to continue watching the story, you would eventually be led to the graphic below that invites you to read more about bringing dogs to the workplace.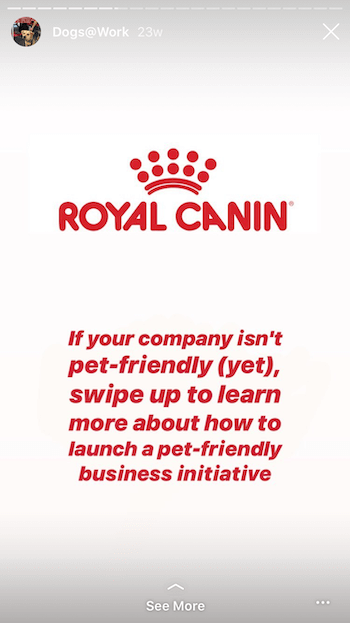 #3: Warm Up New Instagram Followers or Cold Instagram Leads via Stories Highlights Albums
So you've created and shared a variety of engaging stories with your followers across your social media platforms. But once your story's 24 hours are up, what do you do? How can stories offer long-term marketing value to your brand?
While stories disappear from your followers' feeds after 24 hours, you can save stories to highlights albums that users can access anytime from your Instagram profile. This allows you to preserve and organize your best story content for current followers to go back to and for future followers to discover later on.
Group Your Instagram Highlights Into Topics of Interest
While earlier I mentioned that Instagram stories are best for viewers in the middle of the funnel, story highlights allow you to spotlight content that appeals to those at the top and bottom of the funnel.
For consumers who are unfamiliar with Buffy, there's an interesting story about the brand in the Meet Buffy highlight album. And consumers who are in the middle of the funnel can get more nuanced information from the other story highlights albums. The Buffy IRL highlight album spotlights content from customers who have posted about Buffy comforters on Instagram. It helps influence people who are on the fence about making a purchase.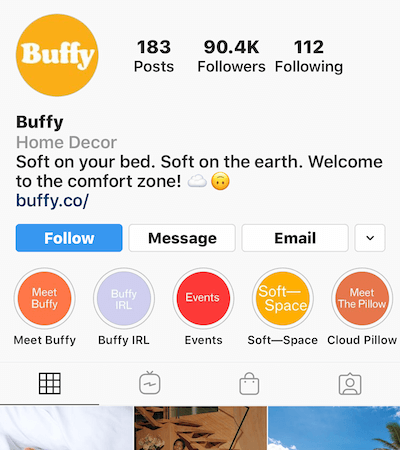 Of course, before you name your highlights albums, you need to develop an organizational system that makes sense for your content and followers. A real estate agent may organize their highlights by client needs, such as Buying and Selling, or by interests, such as Down Payment Saving Tips or Home Design Inspo.
Pro Tip: When grouping your highlights, plan for the future. Ask yourself what kind of stories you'll want to save to your profile and what kind of content your followers will come back for.
HubSpot segments their stories in logical highlights that correspond with what the users may want to know about. The highlights are organized into Tips, Growth, Marketing, Tech, Sales, and so on. This approach helps HubSpot create a better marketing communication channel for all of their users.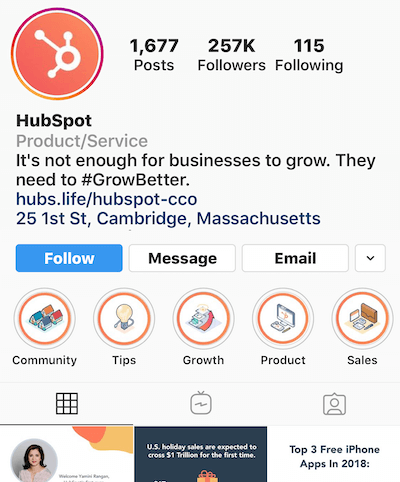 You can also use stories highlights to help your followers self-identify where they are in your funnel and find the information that's most relevant to them on your profile.
A family photographer might create a highlights album for potential clients that offers information about scheduling, pricing, and other general information that prospects may be gathering. The same photographer could also create a highlights album for customers who are waiting to receive their photos, including information about timelines, editing, and sneak peeks.
Alternatively, the photographer could create highlights albums organized by category such as Newborns or Family Christmas Cards, and include pricing, scheduling information, and samples of their work in those specific categories.
When choosing names for your highlights albums, go with short, easily understandable titles that coordinate with one another. Make sure that the titles are short enough to be fully displayed on your profile. Also consider using emojis or single keywords in your highlights album titles for clarity and brevity.
However you decide to organize your stories highlights, be sure to consider clear organization, future content, and the chronology of your clients' journeys and sales funnel.
Design Custom Covers for Instagram Highlights
When creating your highlights albums, be sure to design custom highlights covers. Your cover images should be clean and simple, while either clearly indicating the purpose of the highlight or matching the branding of the rest of your Instagram presence. You can accomplish this through simple icons or intentional color palettes, or by coordinating with the other story albums.
To visualize this, you may choose a solid color background that maintains your branding or a simple, easily recognizable icon that relates to the album content such as a house, a hammer, a dollar sign, or a cat.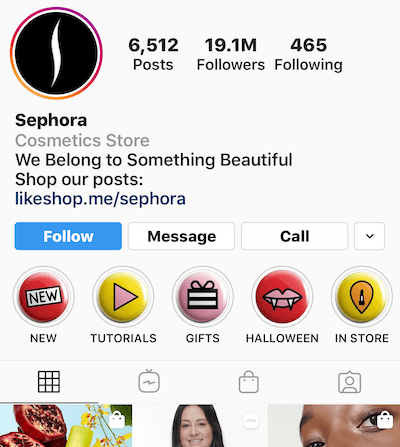 Like any other Instagram content, you can archive or delete highlights when necessary. Consider using this feature when it's time to give your online branding a refresh, or when a short-term sale or program has ended or changed. Your highlights should always be relevant and up to date.
#4: Use Analytics to Optimize Your Instagram Stories Content for Views
Are your Instagram stories too long? Are you posting static photos to your stories instead of dynamic videos? Do followers seem more interested in your educational content than your humorous lifestyle content? Trends in follower retention and viewership will help you determine how best to harness your stories as powerful social media marketing tools.
Instagram provides insights for business profiles to help you track engagement. While the metrics can be ambiguous, they are an avenue of measuring engagement. At the end of the day, they're the only way to determine which kinds of stories are doing well or poorly with your audience.
When reviewing your Instagram Insights for stories, pay close attention to when and where viewers drop off. And remember, engagement on stories shouldn't be interpreted the same way as other web marketing analytics.
For instance, taps back are not negative metrics; they mean users are intrigued and want to see the content again. And taps forward can be viewed as content that's not resonating. This is the reverse of website analytics where the faster and farther a user goes down web pages, the better.
Conclusion
When executed properly, Instagram stories can be an excellent tool for keeping your brand top of mind with your followers. Think of your stories as micro-conversations that help you maintain a constantly visible presence in your followers' daily lives.
Stories give you the opportunity to get creative and craft entertaining, engaging content to share with your followers. Taking full advantage of stories will help you grow your brand and guide your followers from the middle to the bottom of the sales funnel.